How the world got hooked on move-to-earn games
Run in NFT shoes to earn money. How the world got hooked on move-to-earn games and is everything so simple with them
Move-to-earn games are gaining popularity in the world – when the user receives a reward simply for doing some kind of sports exercise. It may look like an easy way to make money, but not everything is so simple.
We tell you how NFT games work, how much you can earn on them, and how not to lose money with a virtual bike or sneakers.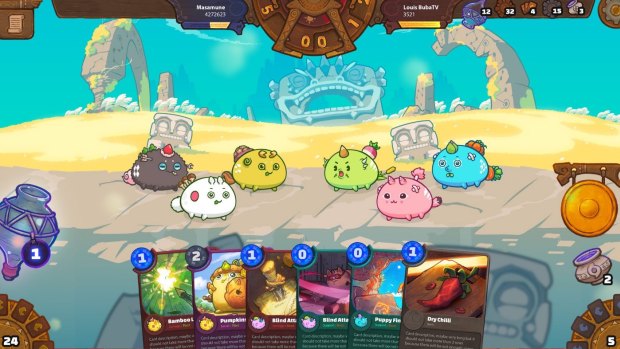 Run in NFT shoes to earn money. How the world got hooked on move-to-earn games and is everything so simple with them
The crypto community has long come up with a more interesting way to make money on the crypt than regular trading – play-to-earn (P2E) games. In them, players can receive tokens for performing any actions or completing levels.
According to Dappradar data, more than half of the active crypto wallets in the world were connected to one or another P2E game in the first quarter of 2022. The most famous such game is Axie Infinity, in which players breed NFT pets, compete against other players, and receive tokens for winning. More than 2.8 million people play it daily.
Screenshot of the game Axie Infinity
Cryptocurrency fans have recently been taken by a new offshoot of the P2E gaming model called move-to-earn. The focus of these games is health and fitness, where users are rewarded for their physical activity rather than virtual activities.
STEPN NFT sneakers
Perhaps the most popular move-to-earn game today is STEPN. In it, the player can purchase NFT sneakers and earn cryptocurrency on runs in real life. You just need to take your smartphone to training and turn on the GPS.
"Stas IT Eye" about gender discrimination in IT companies.
What do you think about sexism?
STEPN sneakers are not cheap: one pair costs $1,400 on average. Each shoe is unique and different in energy scale, "comfort" and wearability. The higher these characteristics, the more earnings. The game runs on the Solana blockchain, you can buy sneakers for tokens of the same name, and the reward is paid in the GST internal currency, which is already listed on many exchanges.
On the forums, users boast that they receive from $40 to $160 per day in this game. That is, in order to at least recoup the cost of sneakers, you need to run for at least a month every day. We already wrote about STEPN – how to buy sneakers, how to calculate earnings and what are the risks, you can read here.
Pedal NFT Biken
Biken is the first game in the ride-to-earn category. It works similar to STEPN, but instead of running shoes, players buy NFT bikes. And they earn by riding real bikes in real life.
The game has three modes – daily commuting, cycling training and walking along the mysterious trails in your city. There are three types of bikes: normal, epic and legendary, which will generate income in accordance with their level.
Since Biken only launched on April 8, 2022, there are no prices for NFT bikes yet. The project is currently conducting an initial sale of its internal tokens. One $BIKEN costs $0.01, so you can try yourself as an early investor and hope that the project will take off after all.
Dustland Audio Runs
"2272 year. A powerful solar explosion reached the Earth and destroyed all the cities. Survive in a post-apocalyptic world, complete missions and save the future," is the description of the NFT game Dustland. It allows you to earn money by playing sports while listening to interactive post-apocalyptic audio stories.
The game came out in early 2022, so Dustland is giving away the Kettlemine NFTs they need to play for free to new runners.
The more missions, physical exercises and runs the player completes, the more rewards he will receive in the form of internal DOSE tokens. With them, you can improve the character or simply withdraw to your account.

Genopet Totem Animals
Genopet is one of the first move-to-earn games that already has its own wide metaverse, an active NFT marketplace, and the ability to compete with friends. This is a complete online RPG with a large selection of characters and tasks, almost like World of Warcraft.
The concept of the game is as follows: you get a Genopet NFT pet, which becomes your "spirit animal" and develops depending on your daily physical and mental activity. The more intense the exercise, the more opportunities your Genopet opens up, and the more it can be sold as an NFT.
For example, you can "grow" your pet from an egg that costs $600 and sell an already upgraded character for $2000-3000. Although it will take more than one month.