Advantages of blockchain in the gaming industry
No one trusts anyone in the gambling industry. Gamblers don't trust gambling establishments or the management of gambling establishments because there are so many scams that gamblers have reason not to trust. While offline casinos are carefully regulated by state authorities, gambling sites are usually not regulated by anyone and the site's managers are free to do as they please.
The casino itself has a similar situation. After all, all players want to cheat the casino, and almost everyone thinks they have found a way to cheat a particular slot machine or the entire casino.
The emergence of blockchain technology solves the trust problem existing in the gaming industry. All payments in the blockchain are transparent, and now players can be sure that gambling establishments will not cheat them, and winnings will be honestly distributed among participants according to gaming conditions.
On the other hand, gambling sites have also become more secure. Blockchain technology is secure, hackers cannot steal players' money, just like dishonest players cannot steal gaming websites.
Blockchain-enabled platforms and cryptocurrencies in the gaming industry
Anonymity is highly valued in the gaming industry.  Cryptocurrencies using the PoS mining algorithm have higher scalability and transaction speed. The most popular platform in the gaming industry is TRON. There are a large number of games and entertainment applications based on the TRON blockchain. The enormous scalability in TRON and the ability to use third-party blockchains allows applications that exist on the TRON blockchain to not interfere with each other. TRON users are attracted by almost instant payments and no (or very low) fees. All of this is achieved through the PoS mining algorithm.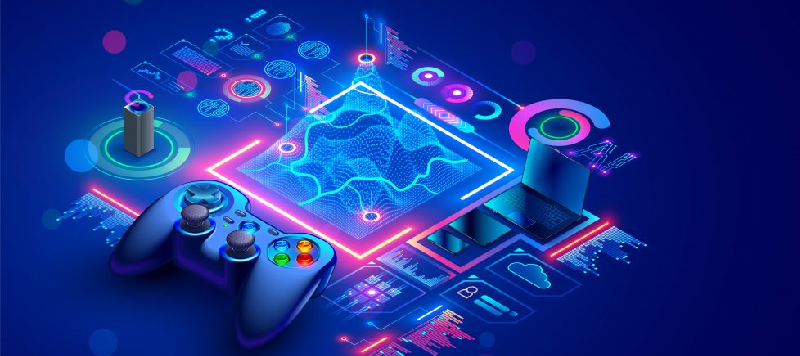 How EDC blockchain solves existing problems
EDC Blockchain uses LPoS mining, which is a type of PoS mining, but unlike standard PoS mining, only large coin holders can mine tokens, LPoS mining allows all EDC token holders to mine them Token Lease masterminds and profit from it. This type of mining allows large communities to rally around the EDC ecosystem.
Payments in the EDC blockchain are almost instant. Each application resides on a third-party blockchain, which does not affect the overall workload of the network.
Low cost. The EDC blockchain transfer fee is 0.001 EDC, which is a very low fee.
There is a built-in coin constructor in the wallet. Applications on the EDC blockchain can create their own coins, including mined coins. Provides modules to create coins more easily and securely, making it easier for developers to use applications.
Availability of anonymous transactions. For the gaming industry, anonymous transactions are very important. The EDC blockchain offers the possibility of anonymous transactions with a commission of 100 EDC for anonymous transfers. This means that the user himself decides how important anonymity is to him.
Use a check. A special feature of the EDC blockchain is the use of checks. You don't need to know the recipient's address or name to pay by check. When you create a check, a unique code is generated that is passed on to the payee. The recipient of the payment activates the code to deposit the money into their account. Checks can be created for multiple people, which is handy for bulk payments. Additionally, there are no commission fees for creating and activating checks.
EDC Blockchain utilizes all the strengths and best aspects of existing crypto industry blockchains while offering its own new and promising solutions such as LPoS mining, coin constructor with mining capabilities, using checks.
Cryptocurrencies are making gambling more accessible than ever
The 2017 Super Bowl was $140 million, but that number would be closer to $5 billion if sports betting was legal across the country. Sports betting is illegal in the U.S. except for a handful of states like Nevada, although a Supreme Court ruling last year may soon change that. Meanwhile, the decentralized protocol allows cryptocurrency holders to place bets on many events, including the Super Bowl.

Bitcoin and Gambling
Gambling is the second most common cryptocurrency-related vice after drugs. Although Bitcoin has many applications, it is no coincidence that Bitcoin's first "killer app" was the Satoshi Dice portal. Since cryptocurrencies have no nationality, are suitable for cross-border remittances and are anonymous, they are very suitable for online casino payments. Many bookmakers and casinos accept digital currencies such as BTC, BCH, ETH, and DASH. There are dozens of platforms that only accept cryptocurrencies.
It's difficult to estimate the size of the U.S. sports betting black market, but it's believed to exceed $80 billion a year. For American gamblers who want to bet on their favorite sports, a variety of foreign websites offer them the opportunity to make their wish come true. However, using credit cards for such purposes increases the risk of breaches and data loss. Cryptocurrencies can reduce some of these risks, but customers are still required to register and disclose their personal information with a centralized online betting platform.
8 months, many of them funded by ICO funds in a growing market. Projects like Wagerr will soon be joined by projects like Block Sports, and the popularity of decentralized gaming applications, accounting for the majority of decentralized application usage on the EOS and Tron blockchains, demonstrates the power of cryptocurrency gambling.
Augur's decentralized prediction market and platforms based on its protocol are the most famous example of "staking without borders", which is effectively uncontrollable. Guesser is a more user-friendly version of Augur, currently in closed beta. It allows anyone to bet on ETH with just a few clicks using the Metamask browser. The Super Bowl market is also active, although more serious sports bettors may prefer Veil. Another variation on Augur offers the ability to place long or short bets on the outcome of the Super Bowl, as well as wagers on various other events, including winning an Oscar. VEIL SITE For cryptocurrency users accustomed to using browser-based wallets such as Metamask to access the decentralized web, the opportunity to play discreetly in a few clicks seems very enticing.
Decentralized business forecasting is another trend that is gaining momentum. It is not intended for gambling, but actually acts as an alternative betting platform, allowing cryptocurrency holders to place bets on the outcome of major sporting events. Business Predictions and Decentralized Betting Companies A number of purportedly decentralized sports betting sites have sprung up over the past 1Without the safeguards offered by licensed betting platforms, including the ability to self-exclude to prevent gambling problems, the convenience of decentralized prediction platforms requires self-control. With greater financial freedom comes greater responsibility for players.
Wondering what cryptocurrency gambling is, you will have to dig through a lot of information to understand how to gamble with cryptocurrency. Here's our guide.
What is cryptocurrency gambling? The Definitive Detailed Guide
When wondering what cryptocurrency gambling is, it's important to note that the development of blockchain technology has had a significant impact on the gambling industry. In order to experience bitcoin gambling and get a bonus at Casino Gold, it is necessary to spend time learning about the relationship between finance and computers. This guide will list all the information you need about bitcoin gambling to help you unlock the potential of the cryptocurrency world. Let's get started.

What is cryptocurrency?
The concept of cryptocurrency first emerged in 2009 by Satoshi Nakamoto, an anonymous man who tried to make online payments anonymously. He then came up with the idea of a decentralized digital currency. Many people have tried to imagine themselves as Satoshi Nakamoto, but his identity remains unknown.
You might recognize the first and most famous cryptocurrency, bitcoin. It is still available and promotes bitcoin gambling around the world now more than ever. Since the invention of blockchain technology, cryptocurrencies have become more common and are now approaching 6,000. The process of mining creates bitcoins that people can exchange for goods, services and other currencies. However, the real value of bitcoin is constantly fluctuating.
What is crypto gambling?
Every transaction between bitcoin users is recorded in a unique digital ledger. These transactions can be securely copied and stored on multiple computers. This system provides anonymity and protects users from changes made by third parties.
While the bitcoin gambling industry can be difficult to understand, its essence is the concept of decentralized payments independent of traditional banks. Many gambling sites now accept cryptocurrencies. Therefore, you can use these virtual currencies to pay for and receive winnings when playing online gambling.
Here are the ten most commonly used cryptocurrencies for gambling, in order of value:
Bitcoin;
Ethereum;
Tether;
XRP;
USD Coin;
Dogecoin;
Chainlink;
Litecoin;
Bitcoin Cash.
How to keep cryptocurrency winnings
You may decide to keep your cryptocurrency winnings while waiting for the rate to rise. However, casinos are not the best option for storing crypto, as you will be tempted to gamble. It is preferable to withdraw your winnings immediately.
We recommend using an exchange as a wallet, as they are much like traditional payment systems and easier to handle than most cryptocurrency wallets in general. In addition, you can always withdraw crypto into fiat on an exchange without additional transfers.
If you do decide to keep crypto in your personal wallet, consider Exodus. It's a wallet with support for multiple currencies, a built-in exchange, and a user-friendly interface. Keep in mind that when using such a wallet, you will be responsible for the safety of your funds because Exodus does not store your assets.
For larger amounts it makes sense to use a hardware wallet. A hardware wallet is a device that stores the user's private keys needed to send outgoing transactions in the blockchain. The basic principle of a hardware wallet is that the private keys are completely isolated from computers and smartphones, which can be easily hacked. The most well-known variations of hardware wallets are produced by Ledger and Trezor – they cost from $50 to $150.